Hey guys, here's how to get Halo Online (Not the closed beta):
PREREQUISITES:
Folder (This is where the game files go, You can call it what ever you want. This folder can be placed
ANYWHERE
.)
The Game Files
The Dewrito Launcher
LINKS:
The Game Files:
https://halo.click/jcSynK
Dewrito Launcher:
https://blam.halo.click/TmnXRV.zip
Alright, so what you want to do is download the 2 files, I recommend downloading the Launcher first, as it's not as big as the actual game files itself. After you have the 2 files, Create a new folder in your desired location (it can be C:/Program Files (x86)/ Or the desktop!), and Copy/Paste the contents of the Halo.zip into that folder (For context's sake, it will be called Halo.)
Once that's done, Paste the contents of TmnXRV.zip (The Dewrito Launcher) and paste it into the Halo Folder.
If you did that correctly, it should look like this:
Don't worry about the extra files, so long as the DewritoUpdater.exe is in the same place as the Eldorado.exe (And the rest of the files that came in the Zip), then that's all good!
Once the folder is ready (with the launcher and the game files), what you want to do now is create a shortcut of the 'DewritoUpdater.exe', and paste it to the desktop. Then go into the properties of said shortcut and make sure that the 'Run As Admin' checkbox is always ticked. Here's an example: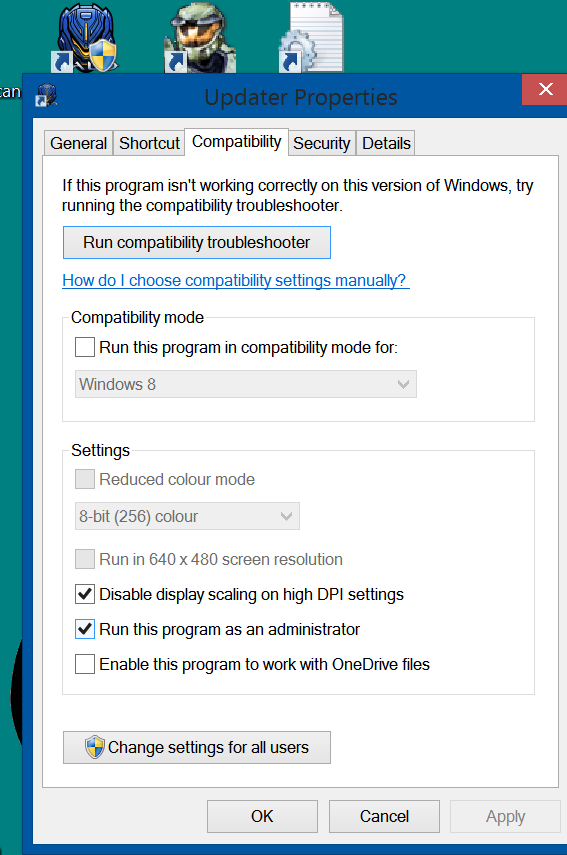 I changed the Icon of my DewritoUpdater shortcut, which is why it looks different. I also have disable display scaling enabled, you don't need it enabled, but I have it enabled anyway.
Alright, so once that's done, launch the DewritoUpdater (or whatever you named the shortcut) and it will verify the game files. It's going to say that the game needs to update first, so let it do that. Once the update is finished, and the launcher has restarted itself, It should look like this: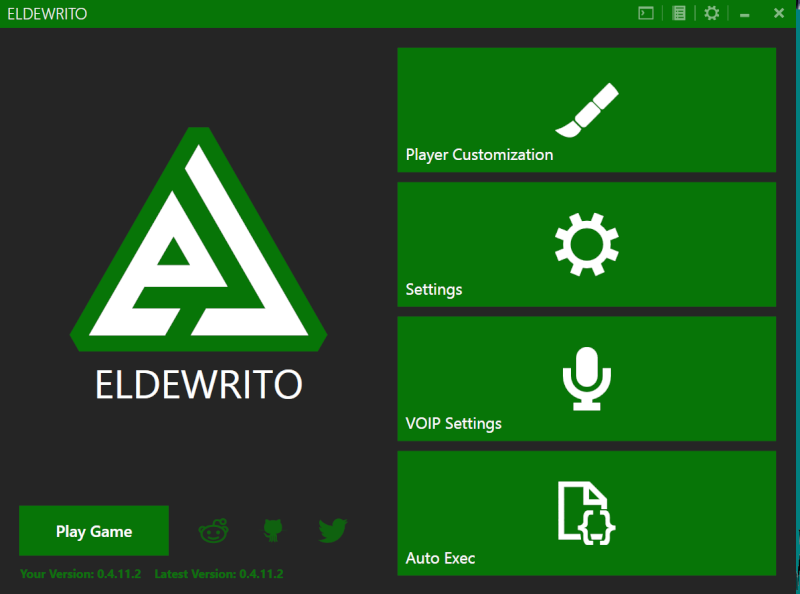 Mine looks different, cause I personalised mine 

Go ahead and set your ingame Player Name, Armor and Color (if you don't know any of them, Google them!)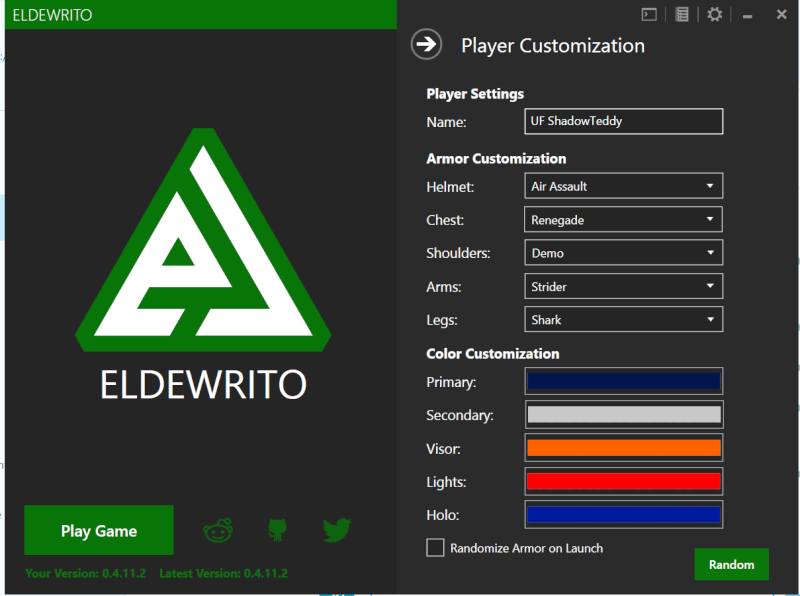 That is my Armor and Color set (For those of you that want an example

)
Next, you need to specify some settings, make sure that you use the following settings (Except for Server Name):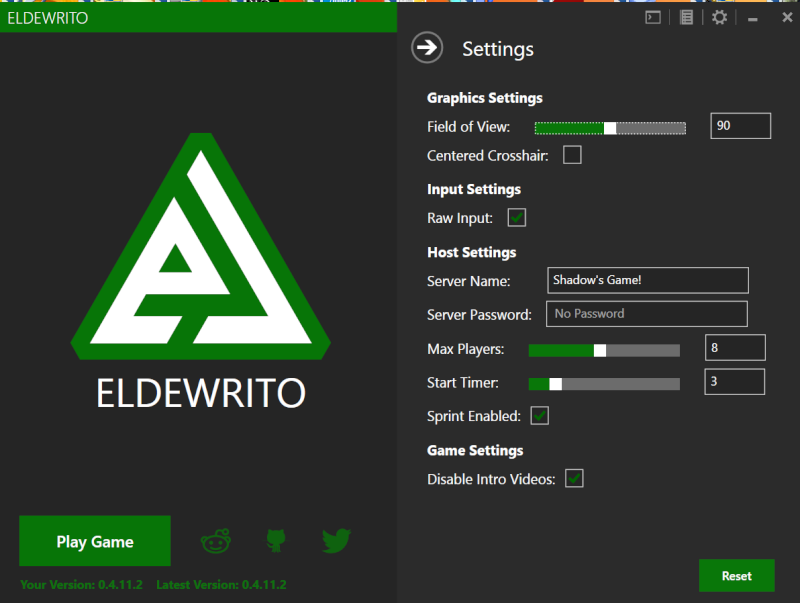 And finally, you need to sort out your VOIP settings, I have them turned off by default.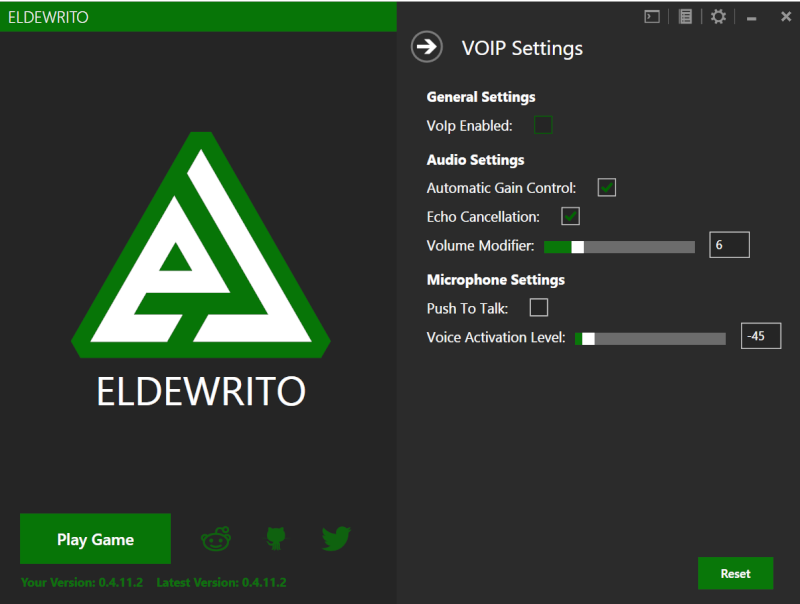 Once that is done, you should be good to go!
Hit that 'Play Game' button, and let everything load from there. When you get to the main menu, you need to use the arrow keys and the enter button to navigate around (This is ONLY for the main menu elements, everything else you can use a mouse). Obviously, there are some things that you may need to sort out yourself (Video Settings, Controls, Sensitivity, etc.) But you should be good to go from here!
Just so you know, F11 = server menu 

***Other Misc. Things***
The game MUST have V-Sync enabled, it is imperative that the game runs at 60fps, no higher. IF it runs higher than this, the physics of the game get seriously screwed up.
If you wish to host a game yourself, You need to forward the following ports:
11774 UDP
11775 TCP
And If you need any help, Don't hesitate to PM me!

UF ShadowTeddy

UF Member





Posts

: 55


Join date

: 2009-06-28


Age

: 20


Location

: Teddyland



*** EDIT ***
Eldewrito has been updated to 0.5. 

This means that this edit will expand on the current Setup
Instead of downloading those two files, Download these ones instead (they should link you to MEGA site)
Once that's done, extract to a desired location, And follow the steps for the launcher in the above post.
The download should be about ~2.31GB
Download the respective link for your GPU:
https://mega.nz/#!Q94kgJhR!6KJF2X3C97kU6nnf02P_RSaRvKb0yy3UaN4LbBE2CkM
NVIDA And Intel Cards Only
https://mega.nz/#!Nlh3BRbS!P4gkn1IdDZJqrxBS4N7n1DhQ-GPKI44lIIEvEqPBQoM
AMD Cards Only
*** CHANGES FROM 4.11.2.1 ***
There are more maps, which makes the Map count that much closer to Halo 3's map count
The Current maps in Halo Online are:
High Ground
Last Resort
Narrows
Standoff
The Pit
Sandtrap
Guardian
Valhalla
Diamondback
Edge
Icebox (Winter version of Turf)  

And the best map (IMO):
Zanzibar!!  

There is still no news about dedicated support (As of January 16th, 2016), It was supposed to be included in this update. The general consensus is that 0.5 was just a map update
Another feature that was supposed to be included was Dual Wielding and Equipment (Bubble Shield, Power Drain) but they are still broken
Also, there appears to be something wrong with the current game menu, so if you go to this link while the game is running, and click on Yes, when it asks 'Do you want to set the Feel Train Menu as your default menu', you should be able to open that menu from inside the game, rather than using a internet browser:
Here's the Feels Train Menu Link:
http://halo.thefeeltra.in/
(Make sure you open this while the game is running)
This is what mine looks like: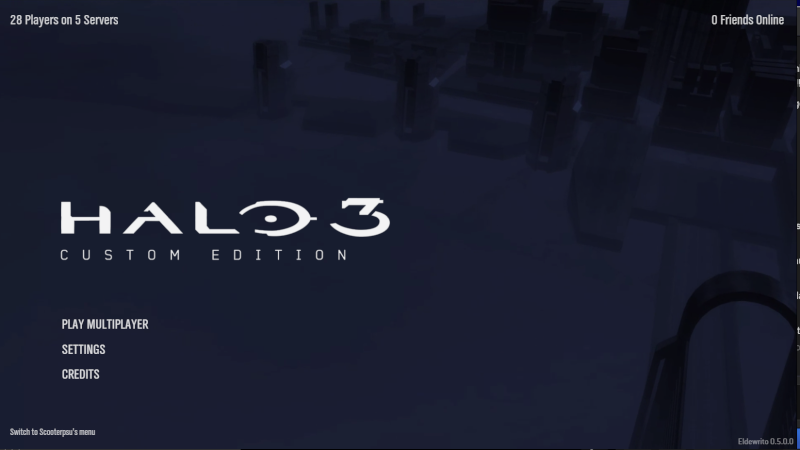 Poke around in the settings to find the backgrounds and music that you want! 
Currently I have the Halo 2 Background with the Halo 2 Music playing 


Like always, don't hesitate to send me a PM!
Good Luck!!

UF ShadowTeddy

UF Member





Posts

: 55


Join date

: 2009-06-28


Age

: 20


Location

: Teddyland



*** EDIT No. 2 ***
(This Will NOT expand on the current method of obtaining Halo Online, These sections will be omitted.)
(As usual, you can use the Pictures however as reference, The launcher design is pretty much the same, including the method of execution)
The Eldewrito Developers have now released 0.5.0.2. Now, what's so bad about this update as it requires you to download a ~2.6 GB file (Which is 0.5.0.1) including a ~45MB file (which is 0.5.0.2)
So, to start off, Delete your current Halo Online Files. And download those two files.
According to r/HaloOnline/, they say that it is indefinitely the last time you will need to download the game files again!
However the history of doing this does not correlate well with this statement...
Anyway, Whoever has been following this post, Well done honestly. You guys have probably downloaded ~ 8.86 GB worth of Halo Files!
The Files: (Hopefully the last time!)
https://docs.google.com/uc?export=download&confirm=OBCp&id=0B-fZbPUIlISJYlYwYmZBWHpWMDQ
- 0.5.0.1
https://d.maxfile.ro/jqphaxcltd.zip
- 0.5.0.1 Manual Update to 0.5.0.2
As far as installation is concerned, Just extract 0.5.0.1 to a folder and location of your choosing. (So it could be called ANYTHING and be stored anywhere you want 

. In this case, it will be called Halo 3  Once you have the folder Prepared (Renamed and with the 0.5.0.1. files in said folder) then proceed to copy the files contained within the 0.5.0.2 zip folder and paste em into the 'Halo 3' Folder. Pretty simple!
DO the same steps above, in terms of launching the game and playing it
(And Armors)
And that should be it!
Read on if you've got a previous version of Eldewrito and have armors and colors that you want to carry over to the newest version
So, to do this, what you need to do is make a backup of your dewrito_prefs.cfg file before you start. Once that's done, go into the properties of the backed-up dewrito_prefs.cfg file and make it so its read only
Hit Apply, then copy that file to the folder where your Halo Online game is stored. That should allow you to keep your armor sets and colors from the previous version.
Method of hosting is the same, ensure that the ports, 11774 UDP and 11775 TCP are forwarded. And then use the games UI to host a game. (Host Multiplayer/Forge -> Network Online -> F1 Type 'Announce' -> Profit??)
And as usual, Don't hesitate to PM me/Make a post if your having trouble! 


UF ShadowTeddy

UF Member





Posts

: 55


Join date

: 2009-06-28


Age

: 20


Location

: Teddyland



HI Shadow Teddy its been a long time indeed. I am still enthusiastic to play Halo on PC.
Thank you for sharing these files with us.
I tried to download the file but I get an Error 522 message. The launcher downloaded just fine.
Could you do something about this? thanks

UF Felix

UF Member





Posts

: 39


Join date

: 2010-11-03


Age

: 29


Location

: The Netherlands




UF Felix

UF Member





Posts

: 39


Join date

: 2010-11-03


Age

: 29


Location

: The Netherlands



Both links work Felix?

Must of been a temporary issue, Could you tell me which link it was?
And Yeah, I'll definitely see you in - game!

UF ShadowTeddy

UF Member





Posts

: 55


Join date

: 2009-06-28


Age

: 20


Location

: Teddyland




UF ShadowTeddy

UF Member





Posts

: 55


Join date

: 2009-06-28


Age

: 20


Location

: Teddyland



Hee Guys!

Sounds Awesome <3 ! 
only problem for me is that the 'The Game files site' is offline

 ...
any tips?

Redbullpowert

User





Posts

: 33


Join date

: 2011-07-24


Age

: 28


Location

: In The Sky With Wings :)



Use the link edit above...?
o_O

UF ShadowTeddy

UF Member





Posts

: 55


Join date

: 2009-06-28


Age

: 20


Location

: Teddyland





Similar topics
---
Permissions in this forum:
You
cannot
reply to topics in this forum